(1) Introduction
Hungarian Wirehaired Vizslas make good pets, but they do need plenty of exercise. Hungarian Wirehaired Vizslas also make calm, gentle and loyal companions. They are sensitive and have a strong desire to please, which makes harsh discipline unnecessary and unwise.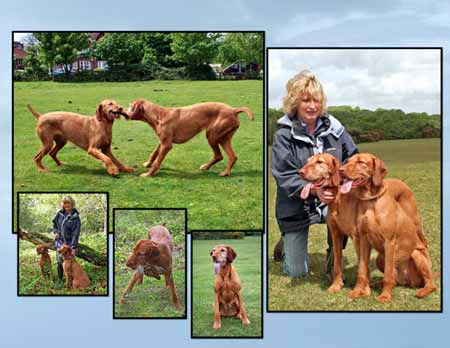 Hungarian Wirehaired Vizslas make excellent working dogs for those with a passion for field sports, and they are enjoying success in the show ring.
Andy and I - Jane Reed - moved to the Wiltshire to live a more rural way of life with the dogs. We have owned Hungarian Wirehaired Vizslas since 1995 and are fully committed to the breed. In fact, we would not have any other breed.
Our Hungarian Wirehaired Vizslas are good-natured family pets that live in the house and are part of the family. Consequently, we like to ensure that prospective owners will give our puppies the same care and attention so we always like prospective owners to meet us and the dogs.
We fully support the British Veterinary Association, Hip Scoring scheme. (Hip dysplasia is a hip joint condition that sometimes affects dogs. The Hip Scheme sets out to reduce the incidence of the disease in dogs used for breeding).
We also test for Hyperuricosuria/Urate stones inherited as a simple autosomal recessive defect. Both parents will need to carriers of the mutation to pass onto their offspring.