(1) A litter in January 2021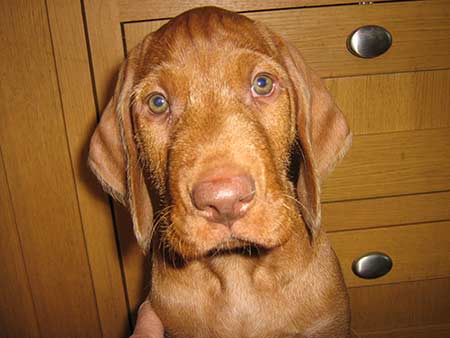 We breed the occasional litter - our aim is to breed healthy dual purpose gundogs that conform to the breed standard.
If you think you could give a good home to one of our puppies please contact us.
Email: reedah@btinternet.com
Tel: 01980 621590
PLANNED LITTER DUE JANUARY 2021
(2) Our Hungarian Wirehaired Vizslas
Our Hungarian Wirehaired Vizslas are good-natured family pets that live in the house and are part of the family. Consequently, we like to ensure that prospective owners will give our puppies the same care and attention so we always like prospective owners to meet us and the dogs.
We fully support the British Veterinary Association, Hip Scoring scheme. (Hip dysplasia is a hip joint condition that sometimes affects dogs. The Hip Scheme sets out to reduce the incidence of the disease in dogs used for breeding).
We also test for Hyperuricosuria/Urate stones inherited as a simple autosomal recessive defect. Both parents will need to carriers of the mutation to pass onto their offspring.