(1) Introduction
Hello, I'm Jane Reed and I started showing dogs at the age of 7 in junior handling classes. My husband, Andy, shares my passion for Hungarian Wirehaired Vizslas. He helps exercise the dogs and enjoys working them at local shoots.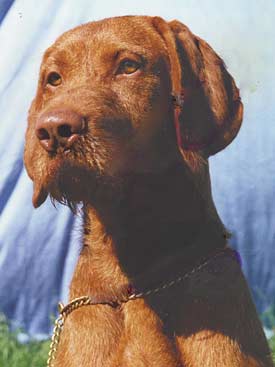 I am an enthusiastic member of the Hungarian Wirehaired Vizsla Association; and Romsey, Southampton, Salisbury and Dorset Canine Societies.
As a child, I lived close to Pauline Rankin, and fell in love with her Hungarian Vizslas, the renowned show champion Artic of Zelton, or Nathan; and his mum, Kinford Lidi. It was then that I decided that when I was older, I'd also have Hungarian Vizslas.
So in 1988, I became the proud owner of a Smooth Hungarian Vizsla, Gardenway Master Mariner, or Bosun, bred by Jackie Perkins.
Bosun was loyal, intelligent, fearless and protective, and a superb first show dog – he won one Challenge Certificate, and two Reserve Challenge Certificates at Championship shows. He was also a stud dog, siring Champion progeny who themselves went onto produce Champions. Indeed, he remains in the pedigree of some of today's best show dogs.
(2) The later years
I then went on to own two more Smooth Hungarian Vizslas before, in 1995, switching allegiance to Hungarian Wirehaired Vizslas.
My first dog, Greenwire Robbie, also known as Kes, was bred by Mrs. Jean Robertson, and was amongst the first forty Hungarian Wirehaired Vizslas registered in this country. Sheila Gray placed him Best of Breed at Crufts in 1998, and we also trained him for an active working life.
Kes was in some ways similar to Bosun. He was loyal and intelligent, but was much calmer and a more sensitive character. Kes was also the first dog we trained for working, and he was also very adept at opening fridges, freezers and dishwashers!
And ever since, we have enjoyed the company and companionship provided by our Hungarian Wirehaired Vizslas.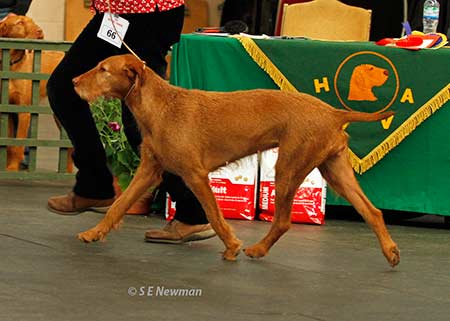 Eris was Cuffnells foundation bitch. She also has been a working dog but has now been retired.
Bula was our first homebred Show Champion from the Brokk and Eris mating.
Ette has done well in Working Tests and has also been lightly shown.